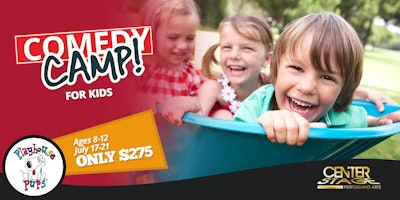 Comedy Summer Camp For Kids
Monday, July 17, 2017 at 9:00 AM - Friday, July 21, 2017 at 4:00 PM (LMT)
More Information →
July 17-21 9am - 4Pm
Cost: $275 for the week
Registration: $50 to reserve your spot
A One time enrollment fee of $30 will be charged for brand new students.
July 17-21 9am - 4pm - $275
For kids 8-12 years old.
$249 if you sign up by 5/1/17 and pay in full.
How fun does a Comedy Camp sound? Spend part of your summer at Center Stage Boca in our improv and comedy writing camps taught by the Playhouse Pups (aka Sick Puppies Comedy). Campers exercise their sense of play through improv games and exercises that are the foundation of Sick Puppies Comedy. Our teachers will work with these young improvisers to help enhance their ability to communicate with others and develop confidence in their own creativity while working as part of an ensemble.
Summer camps are one week long Monday through Friday each week. At the end of the camp, campers present a show for their family and friends on stage.
Improv (9am–10:30am) – Explore the fundamentals of improv as taught and performed at Sick Puppies Comedy. Develop skills like creative thinking, self-confidence, listening, brainstorming, team building, empathy, and communication, while having loads of fun and laughs.
Writing & Storytelling (10:50am–12:20pm) – Learn basic scene structure, the art of storytelling, and character development through the study of Classic comedic scenes.
Clowning & Physical Comedy (12:50pm–2:20pm) – Clowning is 50% physicality, 50% silliness, and 100% fun. Yes, that doesn't make sense, but when it comes to clowning and comedy, it doesn't need to! Kids will have the freedom of movement and self-expression in this class, while also learning about slapstick comedy and how to theatrically control their gestures.
Theater Arts and Crafts (2:30pm–4:00pm) – A fun guided-play experience for students to work on projects with classmates, design and create props and costumes, some of which will be used in their final productions. Everyday is an exciting new activity!
set on Friday in front of firends and family.